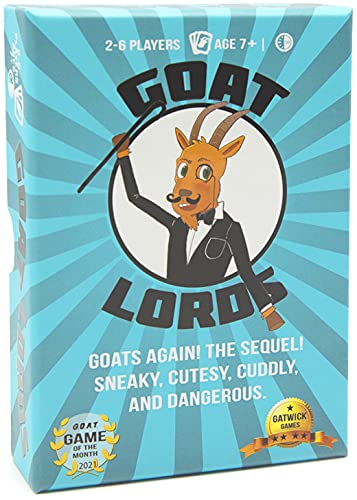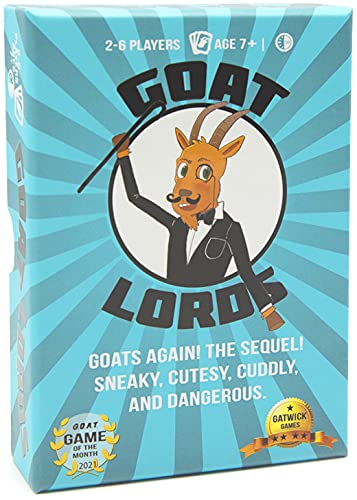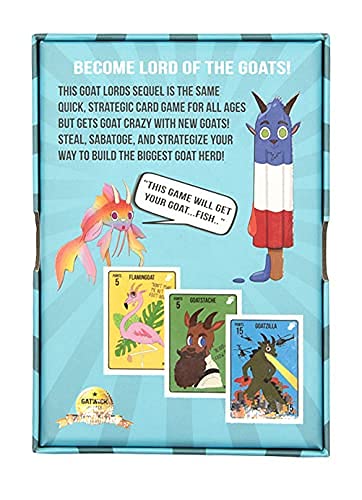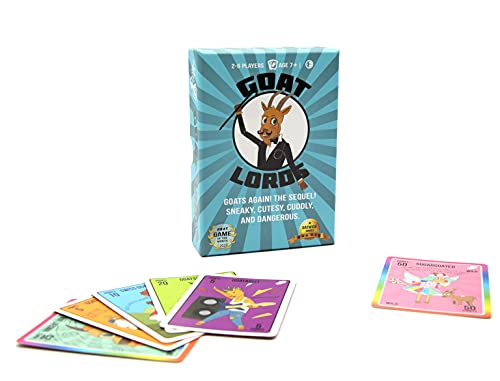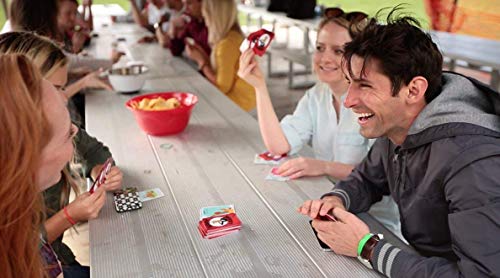 Goat Lords 2
GATWICK GAMES
$21.99
Overview Video
Rules Video
Goat Lords 2 by Gatwick Games - New Card Games for Families, Adults, Teens, and Kids - Great Gift Idea for Father's Day - Hilarious, Family Party Game Nights - 2 to 6 Players - Can be played on it's own as a standalone game, or added to the base Goat Lords game for a crazy experience like never before!
FAQs
Have a question? Email us at fun@gatwickgames.com and we'll add it here!
Link: Rules pdf
science goats show that 100% of not boring people love goat lords

not a boring person?

(not boring-ness guaranteed, or your money back)
how to goat
3 simple steps
1
becoming a goat mother
Good goats come in pairs... Find an identical match of silly goats & place them in front of you. But unlike your identical twin children, some goats are worth more than others...
2
epic goat duels
Or... duel your sneaky friends by playing a matching goat card on their goat stack. But beware, they can fight back... or worse.. escape on a slippery Sasquatch😱
3
how to win...
At Life: Build the largest social media following...😉
At Goat Lords: Build the biggest goatherd & become Lord of the Goats!
meet some new Goat faces🤗
what experienced goat herders are saying:

Can't Stop Playing!
"We play it every single night! CAN'T STOP! This game is wickedly addictive"
-Erica L
Got My Kids off Screens!
Fantastic game we love to play as a family. We have had hours of fun. It is great for all ages, from our 6 year old to adult.
-Lisa G
Hilarious😹
"I was skeptical at first but by the end of the game we were all laughing and Hollering!" Lots of laughing & artwork is hilarious"
-Stephen E
join us for some
goat-tasticfun!

outrageous bombs, magic, dragon goats & more!

think collecting goats sounds boring?
these goats are
unstoppably lovable!