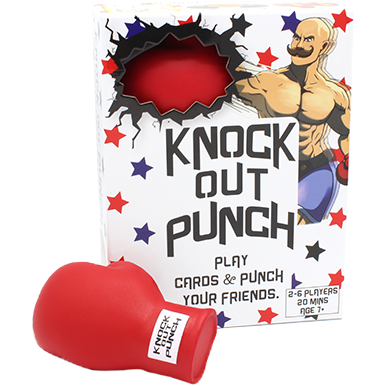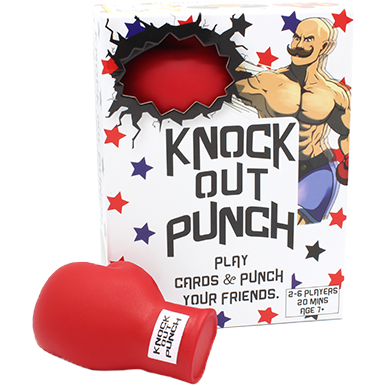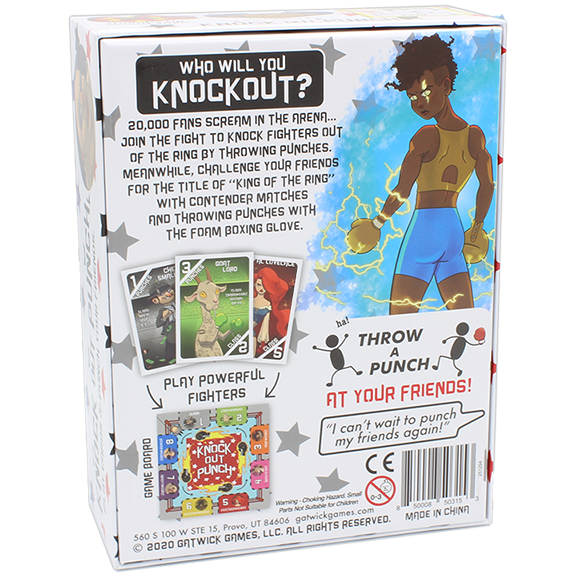 Knockout Punch
Gatwick Games
$24.99
Overview Video
Rules Video
- OBJECTIVE -  The player that collects the most points wins the game. A player does so by:  1) Collecting prized fighters by knocking weaker fighters out of the ring,  2) Winning the King of the Ring (KOTR) token, and  3) Throwing punches to dethrone the King - (players literally throw a squishy boxing glove at each other!)
FAQs
Have a question? Email us at fun@gatwickgames.com and we'll add it here!
Link: Rules pdf
an instant hit🥊... literally

ready to rumble?

(Fun guaranteed, or your money back)
1
knock fighters out of the ring
Match cards to build a fighter up to 4 punches and knock the next lesser fighter out of the ring (winning you their cards!)
2
Draw a throw a punch card
Draw & carefully select your victim... Stand 10 feet away & compete for the all coveted "King of the Ring" token (worth extra points)
3
throw a punch!🥊
Throw the foam glove to win/lose your KOTR token... But beware, you're not the only one after those extra points...😳
what families are saying!

Kids can't get enough
"I thought my kids would love being able to throw things at each other without getting in trouble. I was right!"
-Carolyn W
A New kind of game
"I'm not one for just sitting and playing board games but this one was a BLAST. A new kind of game and well worth the purchase."
-Aaron K
Get ready to rumble
"Get ready for things to get a little rowdy! This game is interactive, moves fast, and keeps everyone engaged."
-Tanya F
get rowdy!
Unstoppable laughter🤣

more than just a card game
play cards &
punch your friends